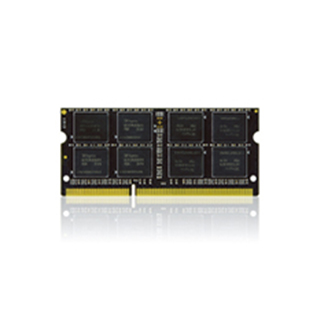 Elite SO-DIMM DDR3
1066, 1333, 1600, 1866
Overview
Notebook computer (NB) applications are getting popular in either work or life in addition to commercial application, in which every person has a NB. In response to trend, Team Group Inc. provides Team Elite DDR3 family , a new extension selection with excellent price/performance.
Insistence on quality first principle
The SO-DIMM product in Team Elite family of Team Group Inc. is designed to comply with JEDEC international standard, selects high quality ICs, and pass 100% strict test with excellent quality, outstanding performance. It is of both stability and compliance as the optimal choice of NB user.
Features
• Adherence to JEDEC and compliance to RoHS with respect to environmental protection regulation, production and manufacturing
• Strict test and verification procedures are performed for products
• Lifetime warranty
SPECIFICATIONS
Dimensions
67.6 x 30 mm
CL-tRCD-tRP-tRAS
DDR3 1333: CL9-9-9-24
DDR3 1600: CL11-11-11-28
DDR3 1866: CL13-13-13-32
DRAM Density
128×8 / 256×8 / 512×8
Data Transfer Bandwidth
DDR3 1333: 10,664MB/s (PC 10660)
DDR3 1600: 12,800MB/s (PC3 12800)
DDR3 1866: 14,928MB/s (PC3 14900)
Heat Sink
No
Capacity
DDR3 1333/1600: 2GB, 2GB*2, 4GB, 4GB*2, 8GB, 8GB*2
DDR3 1866: 4GB, 4GB*2, 8GB, 8GB*2
Working Voltage
1.35V
1.5V
Warranty
Lifetime Warranty