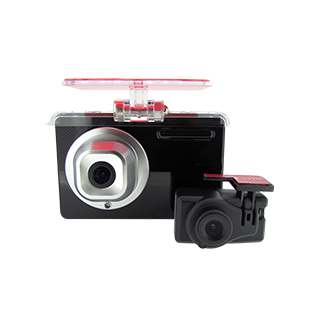 2-Channel Dashcam
Model: CM-AB216
Overview
Full HD 2-Channel Dashboard
*Viewer software is for Windows PC only, but Recorded video can be played with any media player that supports .MOV format.
Intelligent Camera Design
Professional 2-channel dashcam system featured with full HD 1080P front and HD 720P rear cameras, 3.5″ LCD screen, dedicated viewer player software*, Built-in GPS, Microphone, Speaker, and upgradeable 16 GB micro SD card storage provides you a piece of mind when driving.
Advanced Recording Modes
Infinite Mode: The camera will always record and automatically replace historical data.
Event Mode: Camera will start recording based for accidents, sudden brakes, accelerations, and turns, or other impact on vehicle.
Manual Mode: Press a button to start recording manually.
Parking Mode: The camera will start recording either an impact or a movement is detected.
Features
• AB216 provides drivers extra level of protection by offering two separate HD front and back cameras.
• 3.5″ touch screen LCD with picture in picture (PIP) feature offers easy control, setup, and playback without connecting to other devices, no WiFi needed.
• Advanced recording modes include Infinite, Event, Manual and intelligent Parking triggered by impact and movement detections.
• Dedicated viewer player software* brings all relevant data in the same user interface containing front & back videos, time information, GPS location, vehicle speed, and impact forces.
• Upgradeable storage supports 8GB, 16GB, 32GB and 64GB micro SD card (16GB included).