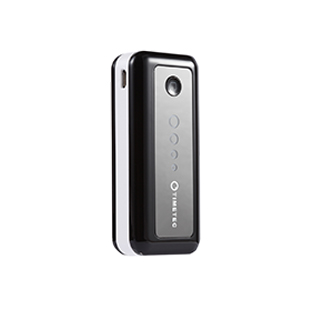 Power Bank
Model: AC-PB5600-BLK
Overview
High Capacity
The Timetec Xamp 5600 adds 2.3 times more power for the standard iPhone 4 (with 1420mAh battery). It holds 90% of its charge for up to 30 days, and can sit unused for up to three months without needing to be recharged. Plus, the Samsung Grade A charging cell brings you the highest quality and reliability.
Wide Compatibility
This sleek and slim 5600 is compatible with nearly all iPhones, iPads, iPods, Samsung Galaxy phones, Blackberrys, Droids, and Kindles, plus phones and devices from HTC, LG, Motorola, Sony, and more.
Rich Packaging Content
The Timetec Xamp 5600 comes with a soft travel bag, an AC adapter, two extension charge cables, and five connectors. It even includes a handy, built-in flashlight that can burn all night for almost a month without needing a charge.
Compatibility
Apple: iPhone 5 5S/ 4S (AT&T, Verizon, Sprint) / iPhone 4 (AT&T, Verizon) / iPhone 3GS / iPod Touch Classic Nano / iPad / iPad 2 [OEM CABLE REQUIRED]
HTC: One X / One S / T-Mobile Sensation 4G / Sensation XE XL / Radar 4G / EVO 3D 4G / Inspire 4G / Vivid 4G / Wildfire S / ThunderBolt / Incredible 2 S / Rezound / Desire HD S Z
LG: Vortex / Revolution / Quantum / Thrill 4G / Rumer Touch / P500 / GT540 / GW620 / GX500 / KP500 / Optimus V S T 2X 3D 7
Motorola: Atrix 2 / Triumph / Photon 4G / Verizon Droid 3 X X2 Bionic Razr
Nokia: N900 / N9 / N8 / N97 / C6 / C3 / E71 / E72 / Lumia 900 800
Samsung: Galaxy S4 / Galaxy S3 S III I9300 / Verizon Galaxy S3 S III I535 / AT&T Galaxy S3 III I747 / Sprint Galaxy S3 III L710 / T-Mobile Galaxy S3 III T999 / Galaxy S II I9100 / T-Mobile Galaxy S II T989 / AT&T Galaxy S II I777 / AT&T Galaxy S II Skyrocket SGH-I727 / Sprint Galaxy S II Epic 4G Touch / Galaxy Nexus Prime / Galaxy Note / Focus S / Infuse
Others: Blackberry Bold 9900 (NOT compatible with Bold 9930) / Sony Ericsson Xperia Arc S / 3G 4G mobile WIFI hotpot / PSP (NOT compatible with PSP vista) / Nook Color / MP3 MP4 MP5
Features
• Average Charging Time (iPhones): 1.5 hours
• Input Charging Time: 9-10 Hours
• Life Cycle > 500 Times
• Dimensions: 3.8 x 2.5 x 0.87 inches